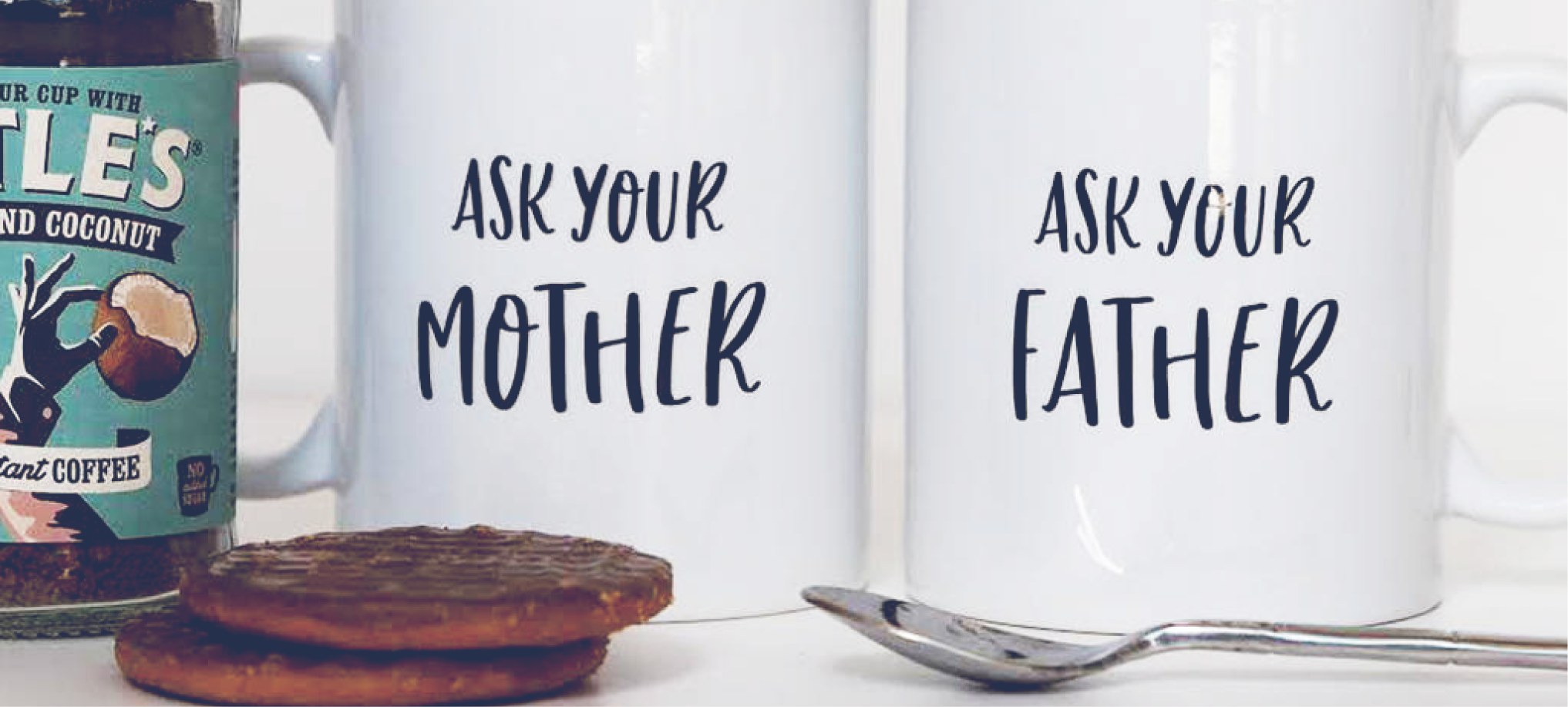 Boost your Mother's and Father's Day sales – the best e-commerce tactics
As we underlined in our
latest article
, March is opening the season of special best-selling opportunities like Mothering Day ( March the 11th in UK & Ireland), Grandmother's day ( March the 4th in France) and Father's Day (March the 19th in Spain, Portugal and Italy)
Taking a seasonal approach to your Teezily Campaigns is fundamental. By building dynamic, fresh content on your store (or Facebook page) relating to Mother's Day and similar events, it's easier to channel traffic and secure conversions. This kind of tactic can really help improve brand awareness and search visibility.  In addition, the high pressure environment of last-minute gift shopping which goes on around these events, means that buyers are ready to click and buy, so they just need a nudge in the right direction. Luckily, we have some precious insights to share with you!
Keep your international calendar updated
Every seller is fully aware that mother's / father's day represent a truly "goldmine" for their business
Mother's day 2018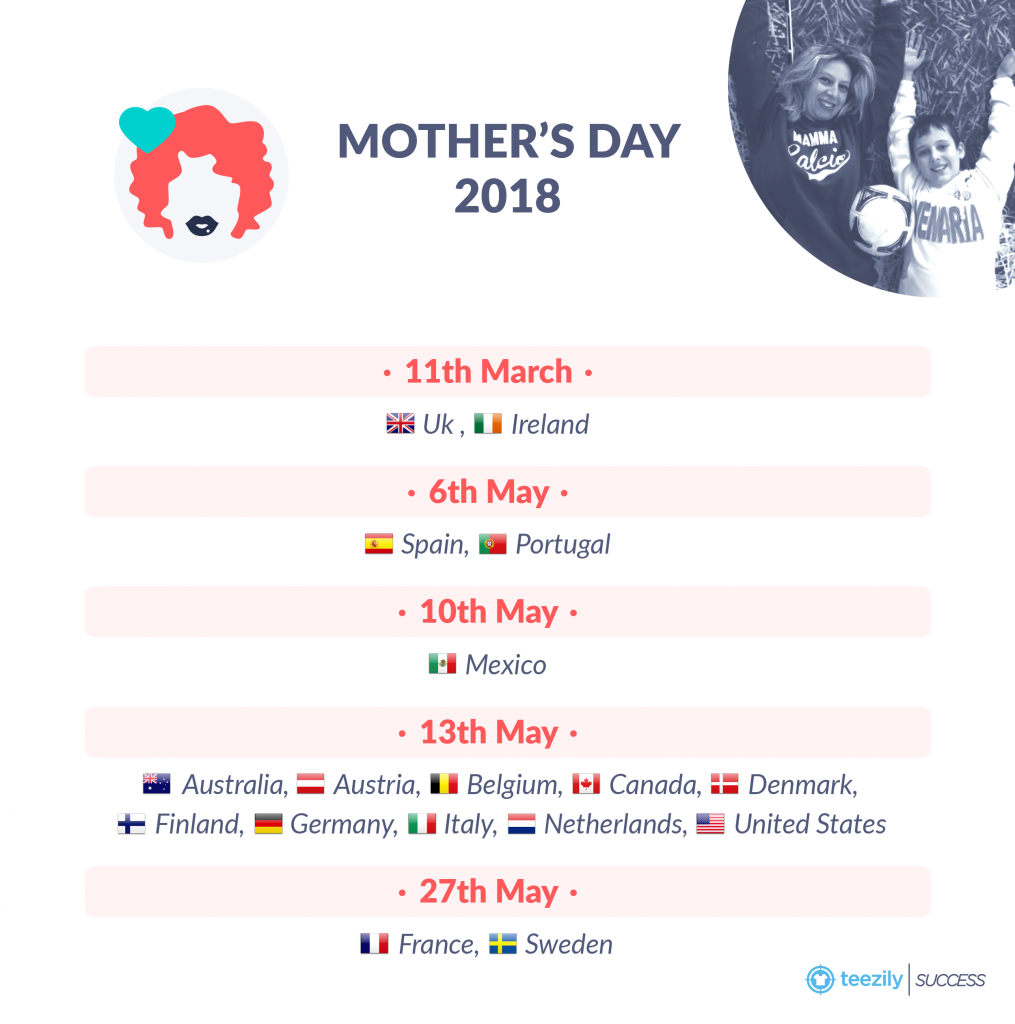 Father's Day 2018
Customize your store





Gather your best-selling campaigns related to the niche in its own category





The goal is to draw your (potential) customers' attention to your best products and to increase your visibility. Even if your products don't typically fall into the Mother's Day Gifts category, use your research to appeal to your shoppers. For example, a campaign about yoga can represent the perfect gift for a yoga-mum! We also remind you that Teezily offers you the opportunity to fully personalize your store by adding banners along with special sections & categories.





Offer special deals





Strictly related to the above-mentioned insight, you can stress in your store's banner that you are offering a special promotion for this day: for example, "One-third off hoodies for Grandmothers". Even if your shoppers were not necessarily looking for an hoodie, this could sway them towards that particular gift idea. (Keep in mind that some mothers prefer shopping for themselves. Think about targeting this audience  with a month-long "just for moms" promotion!). You might want to check our video tutorial about discount codes!


3.  Include the "key-words"
As an eCommerce seller, you should take complete advantage of the power of keywords. "MOTHERS DAY GIFTS" would be the simplest and most used search term a few days prior to the day. By leveraging specific keywords you have a high chance of increasing web traffic to your campaigns, and as a result more sales the short term. For example, during Mother's day, while "Mothers" and "Mum" showed up in 36% of keywords, there are 64% support terms that included: "ideas", "best", "unique", "cheap" and "wife". Did you know that "Cheap Mother's Day" gift is searched over 3000 times/ month? Here are few sample search terms that are trending and could help you to target your international audience.
List of Key-Words for your promotion strategy
Explore (unconventional) social media channels
We definitely know that
Facebook
represents your first, and favorite choice in terms of advertising. Indeed, you are doing it well! However, we suggest that you test and explore other social networks in order to get your buyers' attention during these kinds of events. We are referring particularly to
Instagram
and
Pinterest
, two platforms where people are constantly looking for gift inspiration. So, create your board and, again, make a wise use of strategic key-words!
We also suggest that you motivate and involve your community. Engage with your customers / followers through asking them to share information relating to the special date ie: what is the best advice your Dad ever gave you? What is the best gift your mum gave to you? Contests are also a great way of encouraging interactions and driving traffic to your campaigns, you should consider the idea to offer a free item to the winner. Make sure to use appropriate, trending hashtags when necessary and do not forget that pools are also a very effective marketing tools (and can also inspire your new design ideas!).
List of Key-Words for your promotion strategies
Keep in mind that we offer you the best features
"Personalize your campaign" tool
You should be fully aware that this feature represents a game-changing tool during these kinds of events. People are looking for special, unique products to offer to their loved ones in order to impress them... well, what could be a better gift than a product with a custom slogan / dedication? Therefore, we strongly suggest that you give your buyers the opportunity to add up to three custom texts to your design. Personalised campaigns can increase your sales by up to 24%!
"Message buyers": share the love!
E-mail marketing is still a powerful retargeting tactic; however, bear in mind that your customers will receive tons of emails from different companies / brands during these periods and you need to stand out from the masses. Concerning the title, we have a few ideas that might spark some interest:
Don't forget about mom / dad
Things to do on Mother's Day / Father's Day
Promotions on mom's/dad's dream products.
This year's most popular Mother's Day gifts / Father's Day gift
Create a special Mother's Day product /Father's Day product
( if you are using the "personalize your campaign" tool)
Mother's and Father's Day are celebrations that go beyond the fun / scary messages of Halloween or the romantic quotes of Valentine's Day. A UK marketing agency found Mother's Day messages with emotional content converted better than product—or incentive—focused emails. So, in order to stand out from your day-to-day messaging stream, you should consider adding special quotes about parenthood and be more empathetic to your customers!
Upsell feature: the secret to winning more sales!
So here's the thing: your customers are looking for a special gift for their mums, but what if they found the perfect matchy product for their dad as well? Like two matching mugs, or two T-shirts with the same slogan. Two clicks for two special gifts, and no need to struggle to think of gift ideas for their father in two months. Sounds great, doesn't it? You should definitely explore and use the "Upsell feature" in order to promote more products and increase your revenue, check
this tutorial
for more information.
Last but not least... take advantage of the BEST base prices in the market!
We kindly remind you that we have recently introduced our new base prices, the cheapest you can find! For products shipped to Europe, you can
earn up to €2,95 for Round Neck T-shirts
and
€5,00 for Unisex Hoodies.
Read our article for more information about the
new Teezily pricing
(for an unlimited time folks!).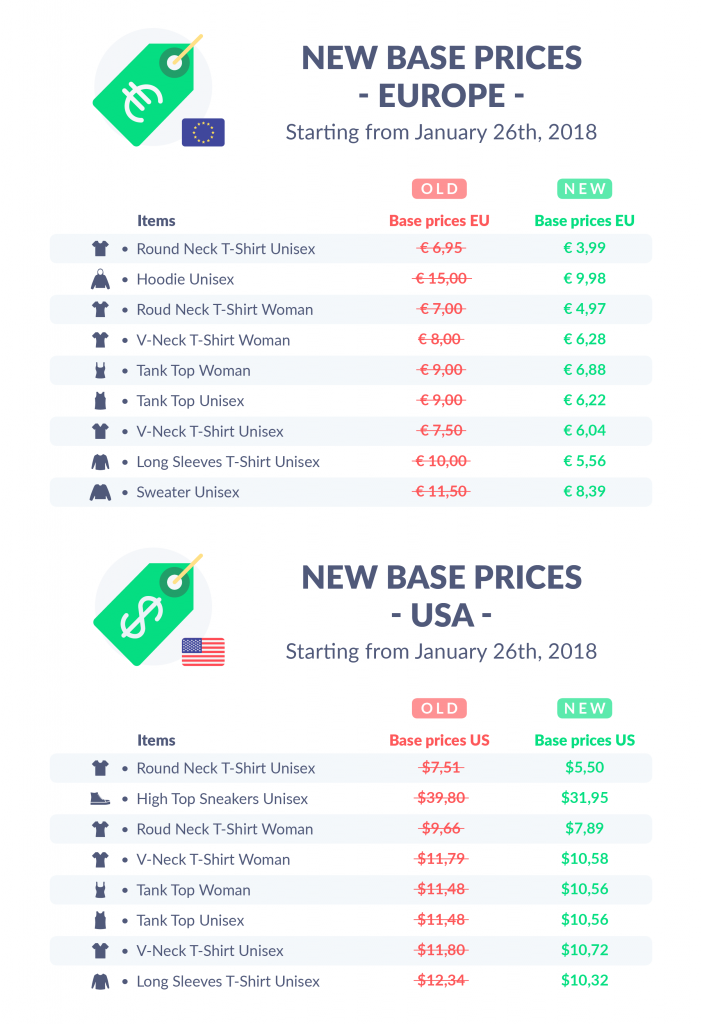 Well, it's time to give a "family touch" to your campaigns : we ensure you that these special events will rock your POD business. Enjoy your sales !