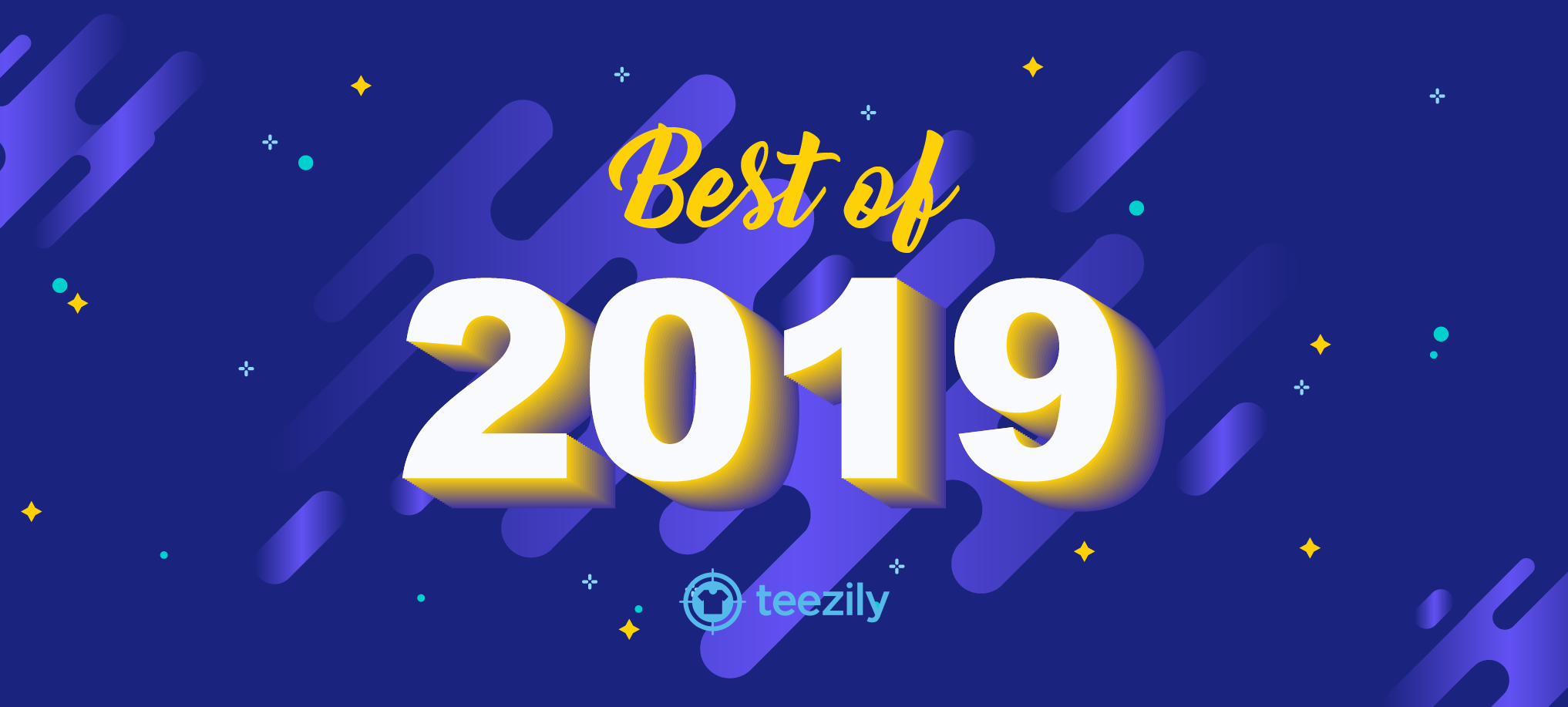 3 years ago | posted by Angelica Pratolini
Category: Headlines
Tag: Feature, Product, Store, Tips, Upgrade
Your 2019 with Teezily : Year in Review
It's hard to believe that the end of the year is already here ... And just like you, we are impatiently awaiting the major projects for 2020. Today there are more than
50,000 sellers
in more than
50 different countries
using Teezily to launch their e-commerce business.  Thank you all for your outstanding support and for inspiring all our new features and tools, let's take a look of this year's major updates.
Couple campaigns ( January 2019 )
Two different creations on the same campaign ? Indeed, the dream came true ! It's possible to add two different designs on the same campaign page: this is the feature increased your Average Order Value especially during Valentine's Day sales or international events like "Siblings Day"! Available for both EU and international customers.
LOTS of new products for print-on-demand 
We started the year with something that quickly became one of the best selling products,
All Over Hoodies
(Unisex & Women) and we kept on surprising you with many outstanding custom products. Thus, our catalog also includes
All Over T-Shirts, All Over Leggins for Women, Microfleece Blankets, Reversible Mermaid Pillowcases, Animal Engraved Medallions, Engraved Necklaces, Doormats, Wall Art, Custom Pillowcases
and so on. Sherpa fleece blankets notably became one of the hottest products during this fall/winter season: they are comfy, cozy, fully customizable and they represent a brilliant gift ideas for family & friends.
New Dashboard and New Products on Teezily Plus
More and more sellers are selling personalised products through our all-in-one fulfillment service, Teezily Plus. Bear in mind that you can find our app on Shopify to easily connect your store(s) or
you can connect your Woocommerce store and process your orders via Payoneer. We are keeping on adding new products on Teezily Plus and we completely restyled your dashboard, which is now even more user-friendly and effective. Guess what? We will start this new decade with some very important updates on the platform that will make you really happy. 
Top e-commerce features for Custom Domains

In 2019 we have released lots of new features in order to optimise your selling experience, notably for your DNS store. Indeed, your DNS storefront has been restyled and it looks wonderful. New fonts, up to 6 categories on the page header, master collections with attractive look picture and so much more.
A bunch of new tools to improve your selling experience
We have started 2019 by adding a
Cross-sell feature that is tag based
: basically, you can wisely add tags to your campaigns to decide which creations will be showcased amongst the "
Related Product"
on your products' page. Furthermore, as we are fully aware that
customization
is an important trend in e-commerce, we have enable the personalization tool on most of our products, included canvases, pillows and blankets. Last but not least, we now offer your clients
tailored payment services in Latin America
: Boleto for Brazil Coupon de Pagos, PagoFacil and Rapipago for Argentina and so on. Latin America holds tremendous promise for e-merchants with international ambitions.
And, what do we have in store for you? We are now testing some brand new services and features that we are going to release by the beginning of 2020. Be ready for: new custom products on Teezily, personalization on Teezily Plus, improvements on the marketplace … and so much more!
Happy New Year you all!