Long Live Moms! 7 tips for your Mother's Day campaigns
May is the month of Mother's Day. Although countries around the world celebrate Mother's Day on different dates, the majority celebrate their mothers in May. The second Sunday of May is the most prevalent day for Mother's Day (USA, Australia, New Zealand and parts of Europe, South America & Asia). France and Sweden celebrate Mother's Day on the last Sunday of May, the 28
th
this year. Mother's Day is among the most commercialized holidays in the world, so we have put together some sales tips for you to make the most of it!
1.   Target different kinds of moms
Traditionally, people bought gifts only for their own mothers, but nowadays people buy gifts for any mom that they know and admire: mothers, stepmothers, wives, daughters, sisters, grandmothers and friends. Some moms even buy gifts for themselves. Be sure to profit from this broad target group!
2. Try matching designs
Some moms like to have matching outfits with their children. You could do matching designs on T-shirts and Baby Bodies. It is guaranteed that you will make hearts melt with adorable matching outfits! 
3.   Time the launch and advertisement of your campaigns strategically
As Mother's Day is one of the most commercialized holidays, people start buying gifts well in advance. People tend to buy Mother's Day gifts earlier than for example Valentine's Day gifts. Therefore it is important that you launch your campaigns now and start the advertisement on time. Of course, there is always that group of people that forgets to buy presents and have to do it at the last moment, so it can be beneficial to release an extra last moment publicity.
4.   Use our newest product release: necklaces!
Teezily has recently released many new products, among which necklaces. What could be a better Mother's Day gift than a customized silver plated or gold plated necklace?!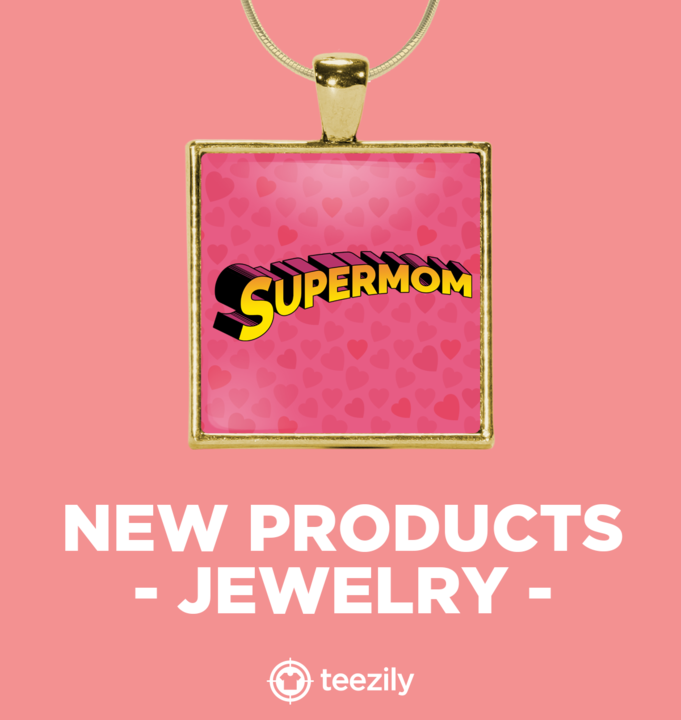 The necklaces are available with round and square pendants.
5.   Create a Mother's Day gift shop
People often find it hard to choose what type of gift to choose for occasions like these. Therefore people tend to search on the Internet for tips on what type of present to buy. Clients will highly appreciate finding a store full of gifts especially selected for Mother's Day.
6.   Make use of the Teezily Affiliate Program
Of course there are already many great designs about Moms on the Teezily marketplace. With our brand new affiliate program you can advertise designs from the marketplace and earn 70% of the profits when a client buys any product off the Teezily market place, within 30 days after going to the Teezily marketplace via your affiliate link.
7.   Teezily Tools to help
Finally, we would like to remind you of the benefits that Teezily offers. In order to help you reach a wider audience, we offer a free translation service during weekdays. Additionally we have the customization tool that allows your clients to personalize your designs. You can give them the opportunity to insert their name, for example.