4 years ago | posted by Angelica Pratolini
Category: Headlines
Tag: Campaign, Upgrade
New update: Teezily Affiliate Program!
Massive update
on Teezily!
We
now bring to you an 
integrated
 Affiliate Program which
will broaden the
opportunities for all internet marketing players joining our platform.
Zilers
can now make a
profit by working
in
three different roles: Seller, Affiliate, and Designer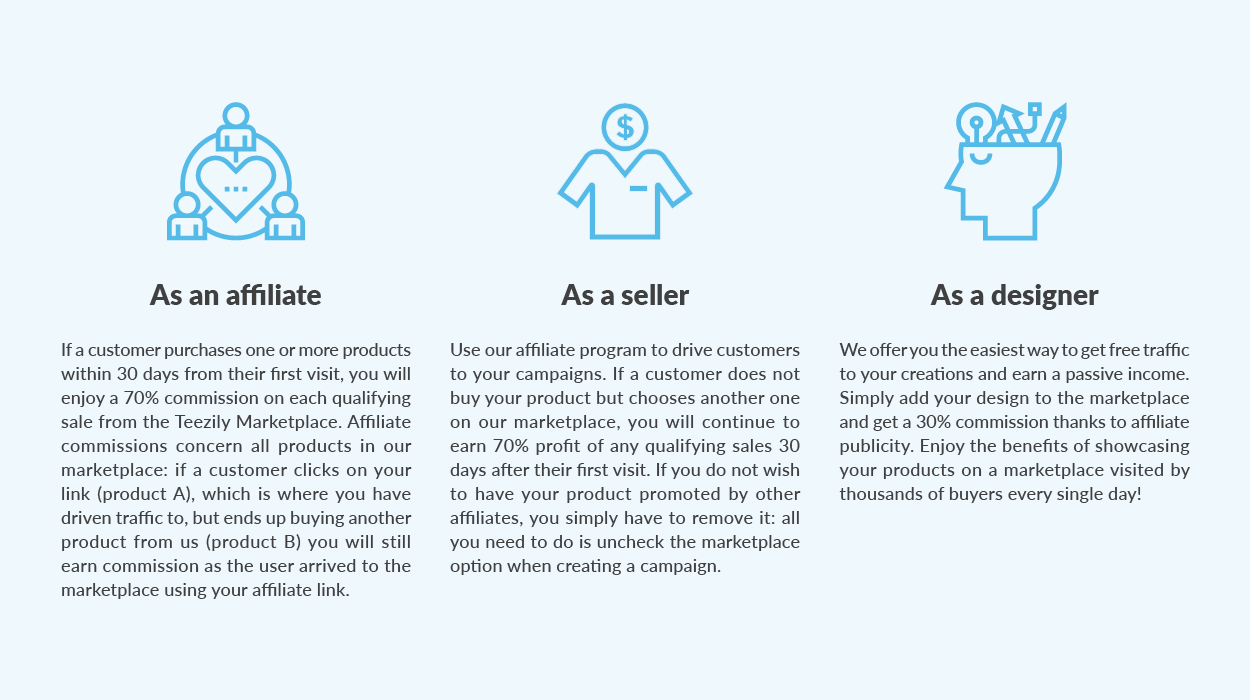 Seller: As a seller, you will be driving customers to Teezily through a normal URL and you will get 100% of the profit if the customers make a purchase on one of your campaigns. Moreover, you will also get 70% of the profit if the customers make a purchase on other campaigns within a period of 30 days. You can also remove your campaigns from the Marketplace if you do not want them to be promoted by other affiliates.


Affiliate: You share an affiliated URL and earn a 70% profit from the sales. This applies to every campaign available in the Marketplace (promoted or not). You receive the commission if the client makes a purchase within a 30 day period after clicking on your affiliate link.


Designer: You get a commission of 30% of the profit.  


In order to understand our program on
a deeper level
, check the FAQ below.
FAQ Affiliate:


Why do I have less commissions?
Because the final sale was made by another seller who promoted your product.


Will I earn 70% of the profit if I send a customer to my sales page, but the customer has already seen another page through someone else's affiliate link before?
Yes. The program works on a last-click logic. The profit goes to the last Ziler who sends the customer to our sales page.


If I am a seller, do I need to change my old links (which are already on Facebook) with the new affiliate link in order to earn a commission if the customer buys another product that does not belong to me in the market?
No, you don't need to change your old links. You will also earn money (70% of the profit) if the customers you bring make purchases.




Do I have to share my commissions with others?
If you don't want affiliates to promote your campaigns, all you have to do is remove them from the Marketplace during the creation of your campaign or Edit the settings on the dashboard.


Can I promote any campaign?
You can promote any campaign on the Marketplace.





As a seller, if I am sending customers to my campaigns but they have already clicked on an affiliate link before, will I receive only a 30% commission?




No, if you redirect customers to your campaigns you will receive 100% of the commission on your own designs. Last click logic still applies.





To support this feature, we
have built an
Affiliate Dashboard on your account. You can follow every profit made by
the
Affiliate Program on the menu Payout. And, of course, if you have any questions do not hesitate to email us at [email protected]!