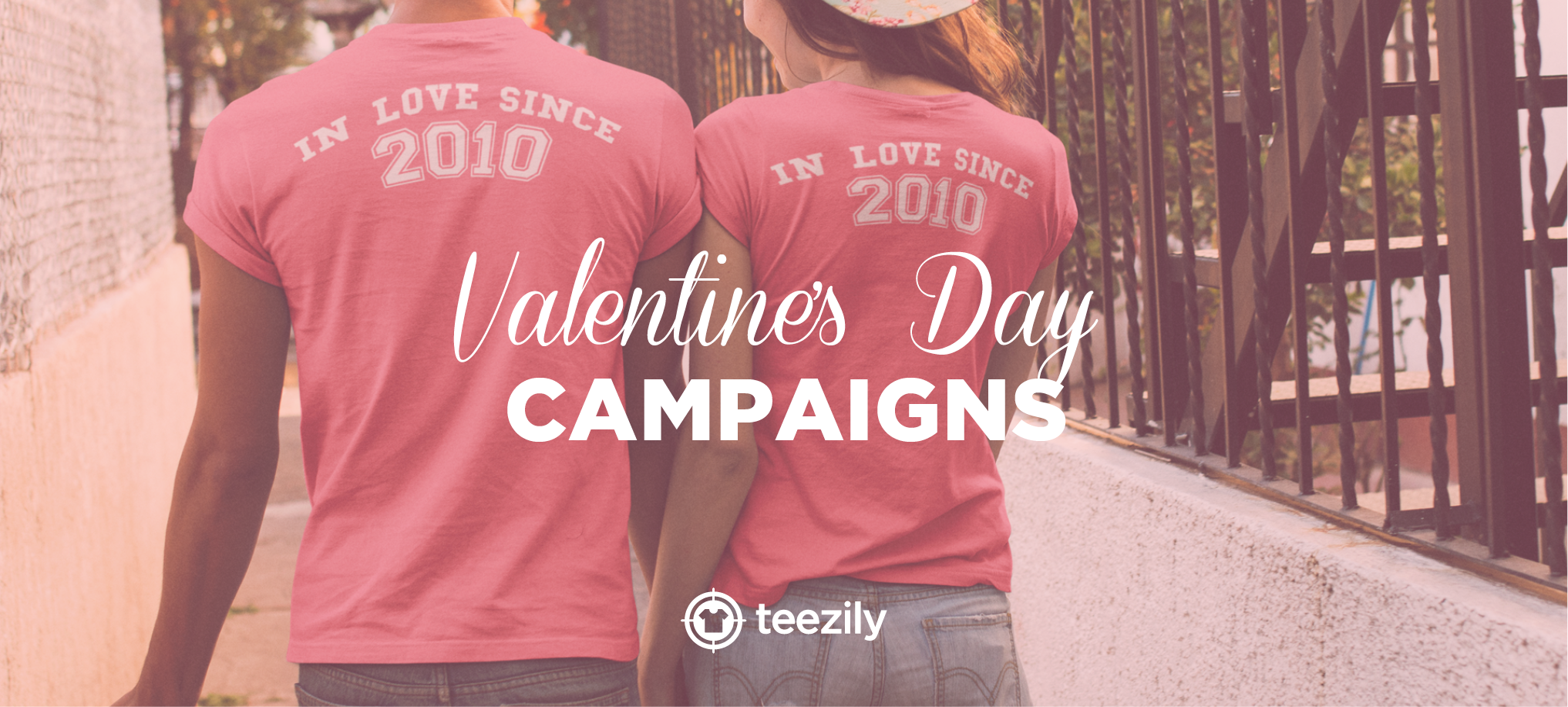 Valentine's Day Marketing Tips for your E-commerce + February Calendar
"All you need is Love", Love is in the air and Valentine's Day is just around the corner!
Even if most of us think that in the e-commerce calendar, we all know that Valentine's Day has a prominent position in the month of February.  According to the tasks, in the week leading up to Valentine's Day retailers saw an 11% improvement in AOV (
average order value
): you still have some day to spread the love & promote your Valentine's Day Custom Product!
Explore  Teezily Products' Offer
Valentine's Day should have something in store for almost everyone. And if you come up with the right message, you can offer almost anything! Just think about our list of outstanding custom product : t-shirts & hoodies, all-over print apparel, organic & premium clothing, custom mugs, pillows, sherpa blankets, doormats, necklaces and so much more. We would love to highligh our best selling products for Valentine's day :


Custom Necklaces : Square or round, you can easily add a romantic poem or a sweet quote for couples;


Engraved Necklaces : these products have been one of the latest updates on the platform and ... guess what ? They are fully personalizable: give your e-buyers the opportunity to add names or a personalised quote;


Custom Pillows : Home & Living Products are a trend in the e-commerce scenario, and custom pillows represent a great opportunity to spice up your conversion rate;


Custom Sherpa Blankets : We already told you that Sherpa Blankets (micro-fleece blankets for bed & couch) have been the best selling product of the season. We ensure you that this product is what you are looking for to boost your profits. Of course, it fits perfectly with niches like "Love", "Couple", "Marriage" (hint: personalize it with a custom Anniversary message) and "Family";


Custom Doormats : think about all the couples that are moving in, this is definitely the best gift you can propose to them ! Make them great by allowing your customers to add their names or initial on it.


Launch "Couple Campaigns" and double your AOV
Two different creations on the same campaign ? Indeed, this is possible ... only on Teezily! You can add two different designs on the same campaign page: this is the feature that will rock your Average Order Value ! How to do it? Just click on "Couple" on the Teezily lab and choose the two campaigns that you want to merge on the same page : you can adjust the selling price, choose to opt for the local fulfillment (or not) and fully personalize your "couple campaign" title and description. Bingo, your buyers will pick two different items in one click, which means higher profits! This is a tailored feature for your Valentine's campaigns as you can include on the same page "girlfriend & boyfriend", "husband & wife", "mum & dad", "mum & puppy" and so many other designs.

Engage Buyers with Valentine's Day Promotions
Promotions and discounts ae not only intended for the Christmas season! We imagined a 
calendar of discount coupons
for Valentine's Day on your Facebook page. Each day, participants can vote for their favourite out of two products. Once they voted, they receive a discount coupon to buy it for their beloved one. You can use the calendar format to reveal percentage discounts free shipping, it's super easy to set up promotions codes on your
DNS store!
Show some love to the singles
"Love" niche is not only about couples: part of your buyers is not in a relationship. Don't make single customers feel less important! Indeed, the day after Valentine's Day has been designated Singles Awareness Day.  February 15th declares to the world that there is nothing wrong with being single. We strongly suggest you to launch & promote products with funny and catchy slogans like
"I am Single but I ignore People Like I am Taken" 
or
"Yes, I am Single. But You Have to be Pretty Amazing to Change That".
Do not forget other relevant international e-commerce events in February
We
welcome this brand new year with energy & fresh ideas for your e-commerce campaign. Get ready for Superbowl, Groundhog Day and carefully check this calendar to be prepared for the most exciting e-commerce events this winter. (Click on the image to download February E-Commerce Calendar)