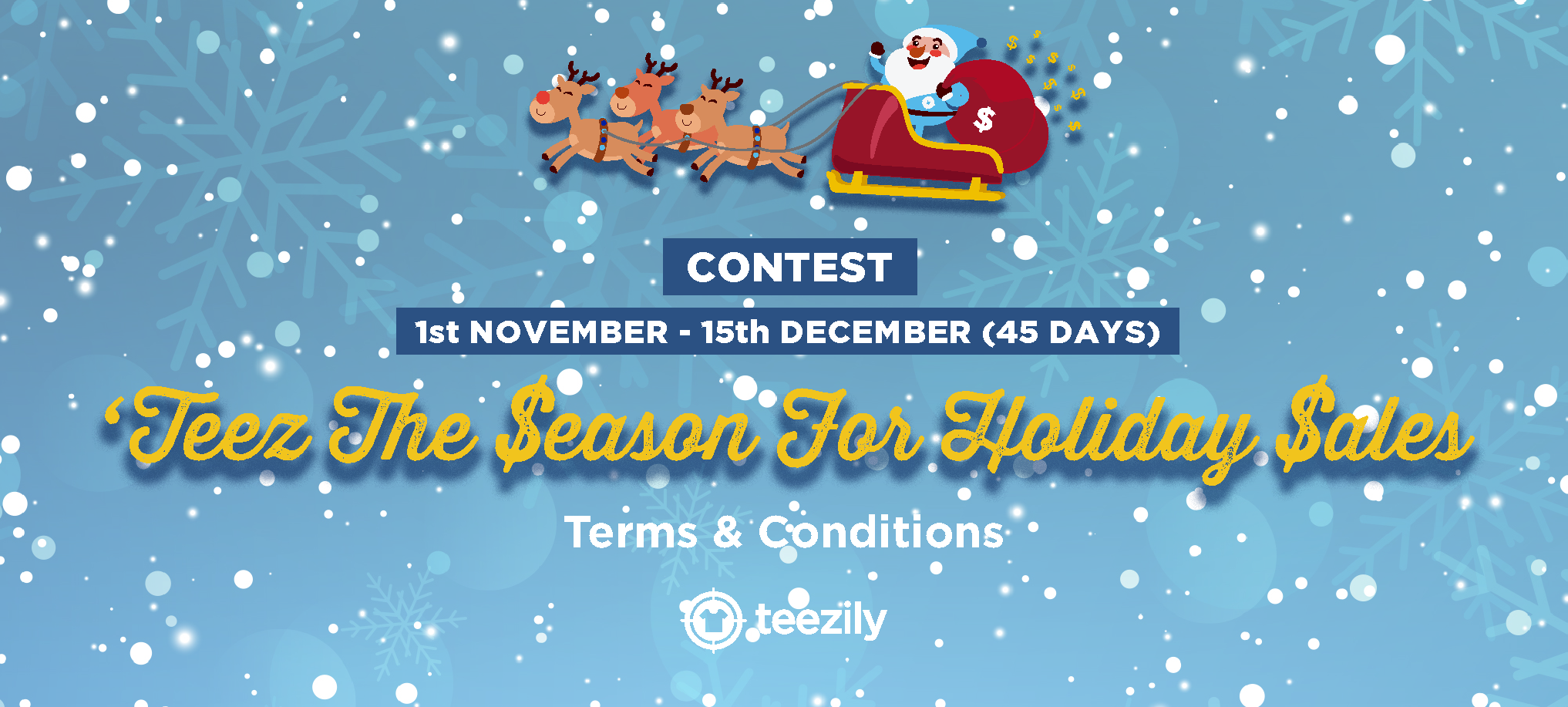 Teez' the Season for Holiday Sales – Terms & Conditions
Odds of winning depend on the total number of sales generated by participants within the following time frame (the "Time Frame"): from 11/01/2017 00:00:01 GMT+1 until 12/15/2017 23:59:59 GMT+1.
ELIGIBILITY
TEEZILY's TEEZ THE SEASON FOR HOLIDAY SALES contest is open to individuals who are at least eighteen (18) years of age, as well as valid business entities, that are: (a) already registered as users of TEEZILY as of November 1st, 2017 or (b) register as users of TEEZILY between November 1st, 2017 and December 15th, 2017.
HOW TO PARTICIPATE
All Teezily users that are: (a) already registered as users of Teezily as of November 1st, 2017 or (b) register as users of Teezily between November 1st, 2017 and December 15st, 2017 will automatically be registered for this contest.
Nevertheless, users will have to confirm their registration by submitting a registration form to be eligible for Prizes.
In order to complete the confirmation form, each participant must include his, her or their correct and verifiable: (a) full name; (b) public name; (c) email address; (collectively, "Registration Data").
All completed registrations must be received by 23:59:59 GMT+2 of the last day of the Contest. The Teezily database clock will be the official timekeeper for this Promotion. Failure to comply with these Official Rules may result in disqualification from Prizes.
PRIZES
USERS SHALL ONLY BE ENTITLED TO ONE PRIZE BASED ON THE NUMBER OF SALES ATTAINED WITHIN THE APPLICABLE TIMEFRAME.
TO AVOID FRAUD, IN THE CASE WHERE A SELLER HOLDS SEVERAL ACCOUNTS, TEEZILY WILL NOT ACCEPT TO CUMULATE SALES NUMBERS.
The winners will be solely responsible for all federal, state and/or local taxes, and for any other fees associated with the prize they receive.
Prizes are as follows, along with their cash equivalent. Should the winner prefer to have cash instead of the prize, they will have to inform Teezily of their decision within ten (10) days after the winning notification.
Teezily may, at its sole discretion, substitute any prize for a prize equivalent if Teezily deems necessary, all prizes are subject to availability. Teezily in its sole discretion will determine the specific prize models awarded.
Prizes are as follows:


$135 000,00, from 90 000+ items sold


$75 000,00, from 60 000 to 89 999 items sold


$25 000,00,  from 25 000 to 59 999 items sold


$8 000,00, from 12 500 to 24 999 items sold


$3 000,00, from 6 750 to 12 499 items sold


$650,00, from 2 000 to 6749 items sold




Mercedes S Class Berline Fascination Mercedes classe A - Equivalent to $135,000 cash


Mercedes classe A - Equivalent to $75,000 cash


MAZDA MAZDA6 - Equivalent to $25 000 $


Rolex Hublot - Equivalent to $8 000 cash


iMac Pro 27' - Equivalent to $3 000 cash


IPhone 8 - Equivalent to $650 cash


Car prizes are for the base model vehicles, all additional expenditures will be paid by the contest winner
TAXES AND FEES
Prize(s) values stated above are based on available information provided to Teezily, the value of any prize awarded to a Teezily user (Contest Winner) may be reported for tax purposes as required by law. Teezily is not responsible for any shipping, import taxes or duty fees. Winner's are solely responsible for reporting and paying any and all applicable taxes related to the prize(s). Contest winners are responsible to pay any expenses associated with their prize(s) that are not specifically provided for in the official rules.
SELECTION OF WINNERS
Teezily users shall have the opportunity to earn Prizes above and beyond the commissions ("Payout") that a user already may earn from selling Teezily products.
For the purposes of these Rules, "Sales" shall be defined as all Teezily products sold by the user within the Timeframe, regardless of the starting or end date of the campaign and/or relaunches.
In case of dispute regarding the final amount of sales, Teezily's internal database will be the sole and final reference, all other sources will have no standing.
The amount of products sold shall be less for any subsequent deductions for cancelled orders (fraud, chargebacks, trademark or other disqualifying events). All deductions for cancelled orders will be made within a maximum of 72 hours after the end of the contest, total number of sales will be fixed as final only after this delay.
ALL DETERMINATIONS REGARDING COMMISSIONS AND CHARGEBACKS SHALL BE MADE BY TEEZILY IN ITS SOLE AND ABSOLUTE DISCRETION PURSUANT TO TEEZILY TERMS AND CONDITIONS AVAILABLE AT TEEZILY.COM.
WINNER NOTIFICATION
All potential winners will be notified via email or by Facebook, within approximately thirty (30) business days after the potential winners are selected.
"Notification" is deemed to have occurred immediately upon sending of an e-mail or placing of a phone call. In order for a potential winner to claim their prize, the potential winner must respond within ten (10) business days of Notification.
Winner may be required to sign and return any documents required by TEEZILY (the "Required Documents") within ten (10) days of date of Notification. Failure to comply within this time period, or if prize notification or prize is returned as undeliverable, or if winner is found to be ineligible, or not in compliance with these Rules, will result in the potential winner forfeiting the prize and being disqualified and an alternate potential winner being selected from among the remaining eligible entries.
GENERAL
By completing the form, participants agree to be bound by these Official Rules and the decisions of Teezily, which are final and binding in all respects.
Entrants who do not comply with these Official Rules, or attempt to interfere with the Promotion in any way, shall be disqualified.
Entrants and prize winners agree to release, defend, indemnify and to not hold Teezily, and their respective officers, employees, directors, parent and related companies, affiliates, subsidiaries, participating affiliates, agencies and any other companies participating in the design, administration or fulfillment of the Promotion (collectively, "Released Parties") from liability of any kind or nature for any injuries, damages or losses of any kind or any other costs or expenses resulting from participation in this Promotion, or acceptance, possession or use, misuse or awarding of a prize or parts thereof, including, without limitation, any injury, damage death, loss or accident to person or property.
Acceptance of a prize constitutes permission (except where prohibited by law or regulation) to use winner's name, likeness, biographical data and statements for advertising and publicity purposes without notice or additional compensation.
The Released Parties are not responsible for technical, hardware, software, electronic, network, telephone or other communications malfunctions, errors or failures of any kind, errors in transmission, lost or unavailable network connections, telephone connections, dropped dial-up internet connections, interrupted broadband, cable, or wireless internet connections, cell phone dropped calls, unauthorized human intervention, traffic congestion, incomplete or inaccurate capture of entry information (regardless of cause) or failed, incomplete, garbled, jumbled or delayed transmissions which may limit or restrict an entrant's ability to enter the Contest, including any injury or damage to participant's or any other person's phone or other electronic computing or telephone equipment, or other matter relating to or resulting from participation in this Contest.
Teezily reserves the right, in its sole discretion, to cancel, terminate, modify, extend or suspend this Contest should any virus, bugs, non-authorized human intervention, fraud or other causes beyond its reasonable control corrupt or affect the administration, security, fairness or proper conduct of the Contest, and no compensation will be payable. ANY PERSON ATTEMPTING TO DEFRAUD TEEZILY OR IN ANY WAY TAMPER WITH, DAMAGE OR UNDERMINE THE LEGITIMATE OPERATION OF THE CONTEST WILL BE DISQUALIFIED AND MAY BE SUBJECT TO CIVIL AND/OR CRIMINAL PROSECUTION. All personal information collected will be treated in a manner consistent with Teezily's privacy policy.
MISCELLANEOUS
The names of individuals, groups, companies, products, and services mentioned herein, and any corresponding likenesses, logos and images thereof reproduced herein, have been used for identification purposes only and may be the copyrighted properties and trademarks of their respective owners. The mention of any individual, group or company, or the inclusion of a product or service as a prize, does not imply any association with or endorsement by such individual, group or company or the manufacturer or distributor of such product or service and, except as otherwise indicated, no association or endorsement is intended or should be inferred. The invalidity or unenforceability of any provision of these Official Rules or the Required Documents will not affect the validity or enforceability of any other provision. In the event that any provision of the Official Rules or the Required Documents is determined to be invalid or otherwise unenforceable or illegal, the other provisions will remain in effect and will be construed in accordance with their terms as if the invalid or illegal provision were not contained herein. Sponsor's failure to enforce any term of these Official Rules will not constitute a waiver of that provision. For entrants, to the extent there is a conflict between these Official Rules and any terms of use or other agreement posted on the Web Site, these Official Rules take precedence.
GOVERNING LAW / DISPUTES
All issues and questions concerning the construction, validity, interpretation and enforceability of these Official Rules or the rights and obligations of entrants', Teezily or the Released Parties in connection with the Contest will be governed by and construed in accordance with French law(s), without giving effect to any choice of law or conflict of law rules or provisions that would cause the application of any other state's laws. The parties hereby consent to exclusive jurisdiction and venue of the courts located in Paris, France in any action to enforce (or otherwise relating to) these Official Rules or relating to this Contest.
REGISTRATION
To subscribe, click
on this online form
.