10 Tips For: Ugly Christmas Sweaters
It's the most ugly time of the year! Yes, you did read that correctly and haven't had one too many cups of Christmas punch already! The truth is that 'Ugly Christmas Sweater' season is right around the corner and behind it stands a 5 million dollar business which has been growing season after season after this trend originally started in 2012. Being all about thrifting old vintage sweaters in it's early days, the 'Ugly Christmas Sweater' is now one of the must-have items of the Christmas season with people wanting their sweater to be as personalized to their wishes and characters as it can get.  Wondering how to take part in this craze? Here are 10 tips to help you start your 'Ugly Christmas Sweater' campaigns.





Christmas Spirit all the way!





Do you think Rudolph, Santa and Frosty the Snowman are only for kids? You are so wrong! A ugly Christmas Sweater gives people from all ages the chance to show off their favourite Christmas character or theme. As always, it depends on how you present the traditional Christmas figures. Some of your customers may be interested in a more 'naughty' Santa Claus while others appreciate a more traditional depiction of their beloved present delivery guy. Try to find out what customers want to see on their sweater and be creative! After all, your customers want to win 'BEST SWEATER' at their next holiday party!





There is an ugly Christmas sweater for every niche





Christmas is the holiday that caters to everyone's tastes. From the notorious gamer to the ambitious hobby chef to that person that is just nuts about sports. You name the niche, there is a Christmas sweater idea right around the corner. Check out this article for amazing ways to come up with a design idea in 5 minutes:
https://goo.gl/rjP76h





Baseball jackets are the new Christmas sweaters





If you have not started a campaign with our new cult product the Baseball jacket yet then this Christmas is the season to! Why not take the amazing cut of our Baseball jacket and unite it with an amazing ugly (or maybe not so ugly) Christmas design? This will let your products stick out amongst all the 'basic' Christmas sweaters and will let your customers be the trendsetters at every Christmas party. The recommended selling price for this great jacket to be lying underneath everybody's Christmas tree this year is between 49,99 € and 54,99 €.





Show what your elves are doing behind the scenes.





What is the best part about Christmas? Definitively the excitement that keeps building and building until the big day! If you want to peak interest among your customers then make use of this same exact excitement and share a sneak peak of the behind the scenes and of what you are doing to make your customers Christmas dreams come true!





'All I want for Christmas is …'





Make use of the unique Teezily customization tool and let your customers customize your designs to their liking! Customization not only helps you to differentiate your products from those of other sellers but according to a Forbes survey, customers are more connected to a product when they were able to customize it themselves. This will then result in brand loyalty as customers are more engaged with your product then ever.





Sleigh your Facebook ads





Christmas is all about gift giving and appreciating one and another. This should also be reflected in your Facebook ads. A study, highlighted in the Harvard Business Review, shows that emotions related to happiness are top drivers to cause customers to engage and take action. The aim is to be surprising and truly unique. You therefore should emphasize the Christmas spirit to it's fullest and think about ads no other seller is running!
But how do you stand out in between all those holiday offers and discounts that are floating around the e-commerce market during the holidays? Here are our top tips:





Discounts


- Do not create just a clever offer, but also create a product people will actually share and talk about. Do you want to reward people and give an incentive to buy more? Why not use your Teezily discount options? You can offer 'free shipping',  a percentage off or a discount for a certain amount. Whatever you choose, you will hear the sale bells ringing!





Donate


- Live the holiday spirit and make your customers feel good about purchasing from you. You can simply pledge to donate a certain amount to a cause close to your heart for each product sold or take initiative in another way. This will not only make your customers feel all warm and fuzzy but you as well.





Loyalty & Service


- Instead of targeting more price conscious customers, emphasize the mutual trust between you and the customer for example through offering free shipping or create a 'Holiday Gift Guide' showing off your products in the best way possible targeted to a certain group of people. This will facilitate the decision process for the customer and build brand loyalty.







Santa respects Trademarks!





At Teezily, we are strongly committed to acting in full respect of third party intellectual property rights and we expect our Christmas elves to do the same! To avoid you harming any third party rights, here is a quick reminder:
A trademark is a recognisable symbol, design, word or expression legally registered or established by an individual or an organisation, and is related to products or services of that owner. Unless you have an explicit permission for commercial use from the owners, you are prohibited to use these trademarks. So please be a good elf as it is always better to fail in originality than to succeed in imitation.





Include our best-sellers in your campaign



Our very own Teezily elves were hard at work and analyzed last year's Teezily sales data.
In 2016 the 'Top 5' in terms of sales for the categories 'Countries', 'Products' and 'Colours' were: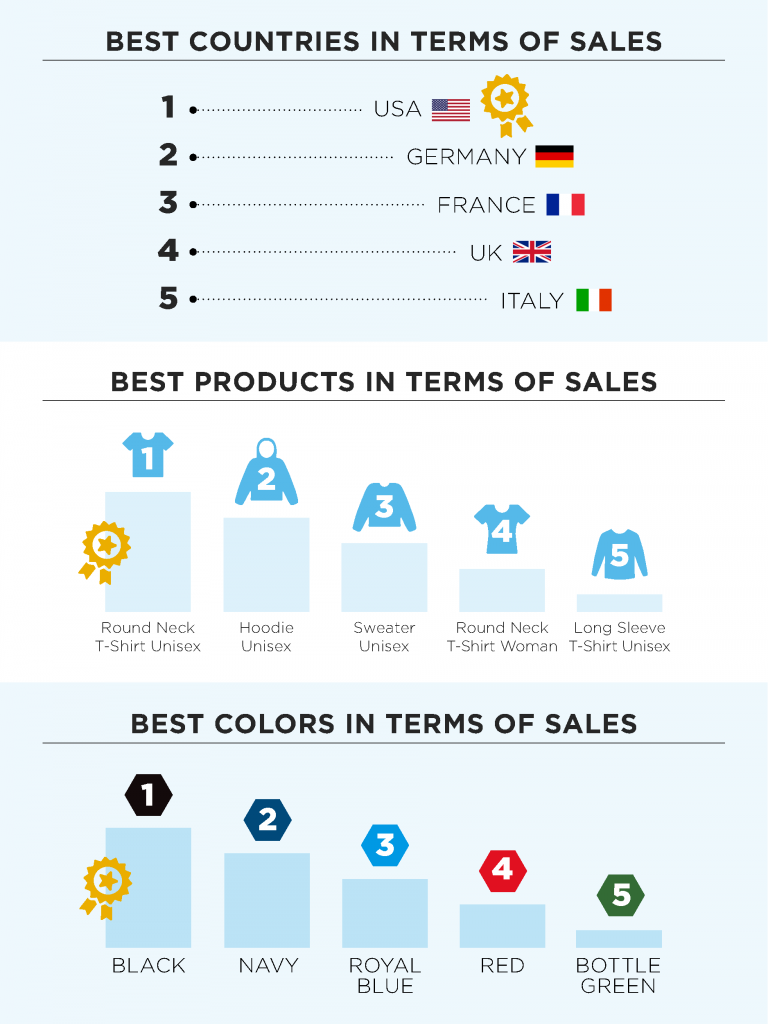 Even though temperatures were dropping outside, the 'Round Neck Unisex T-shirt' was our top-selling product in the 2016 Christmas season. Taking this into consideration you should definitely include this product to this year's holiday campaigns as Christmas designs on T-shirts work very well. Wondering about your customer's favourite colours? Black, navy and sport grey let every design pop!





Leverage the most important niche at X-mas time: the Family





What better gift to give than one that shows your family how important they are to you? Your customers will definitely agree with that as 'the family' niche was last year's best selling niche. Create designs that help your customers celebrate their amazing grandparents, sister or husband! Get inspired by our design ideas: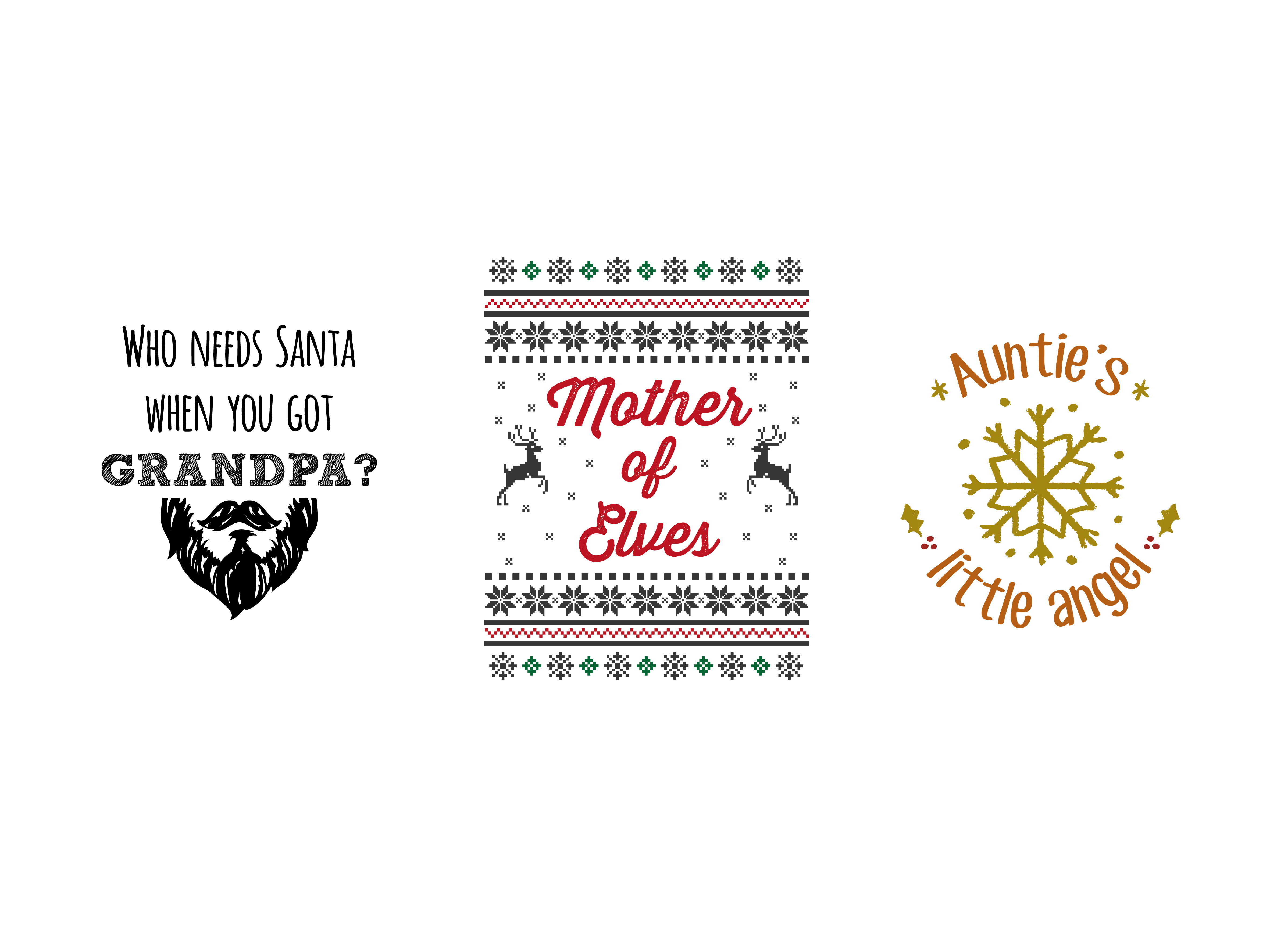 Be the trendiest Elf of 2017





Let us end 2017 and the holiday season with a bang! Christmas is the best season to utilize all the amazing trends that were relevant throughout the year. Especially the younger customer base will appreciate designs which references their favourite TV show, movie or trend! Here is our 2017 Trend selection:


Fidget spinners


Pink flamingos


Cactuses


TV shows: Narcos, Game of Thrones, The Walking Dead


Movies: Beauty & the Beast, Wonder Woman, Guardians of the Galaxy Vol. 2


Fashion: the colour red, floral pattern, 70s checks