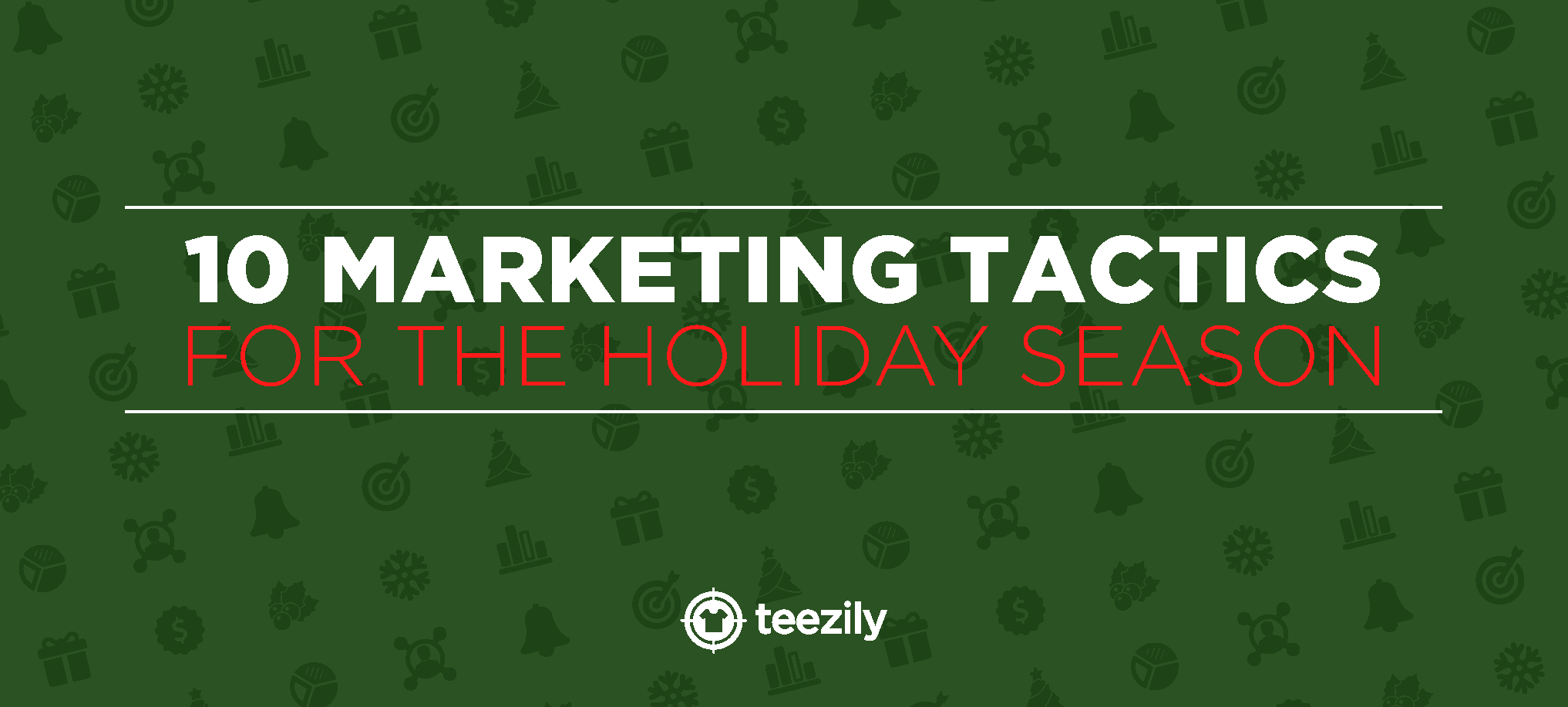 10 Marketing tactics for the Holiday Season
The Holiday season represents the metaphoric (and literal) gold mine for every seller: we cannot mention all the international events and national celebrations that will indeed boost your sales (well, you can always check out our calendars in this edition). However, the marketer's dream can turn into a nightmare if you are not prepared to face an intensive selling and advertising period. A successful digital marketing strategy cannot be realized overnight, and without an extensive knowledge of all the tools and features that will help you in becoming a print-on-demand authority. You should bear in mind that many competitors will launch their advertising campaigns, therefore you'd better adjust your targeting strategy and budget. You might check the following advice that will help drive your Holiday campaigns.



Retain your existing clients with our e-mail Marketing tool : Message Buyers



Leads can be divided into two categories: warm and cold. When you target a specific demographic audience (by gender, age, country and so on) you are promoting content for a cold lead, i.e. people who don't necessarily know your brand or haven't ever bought one of your products. According to Marketing Metrics, "The probability of selling to a new prospect is 5-20%. The probability of selling to an existing customer is 60-70%."
To increase your chances of selling more, target your warm leads: those who already bought your products. Message Buyers, Teezily's exclusive e-mailing feature, enables you to promote your new campaigns and discounts directly from your Dashboard. With this tool, you can send personalized messages to all of your buyers. You can also create "groups", gathering clients according to niches.
Have you considered warning your buyers about your "Black Friday" discount via e-mail using the proper advance notice? "Message Buyers" makes it easy.



Explore all the social media advertising opportunities



But still, cold leads matter! If you aim at targeting these potential buyers you will need to increase your advertising budget of course: during the Holiday sales, this is an option that you have to consider to gain more buyers.
Facebook gives you the opportunity to run various Advertising campaigns on different supports. You can launch an ad on mobile news feeds, desktop news feeds, right column, and Instagram.
Always keep in mind that your ads and calls to actions are likely to perform differently on desktop than they would on mobile. So we highly recommend you to keep your desktop and mobile ad campaigns completely separate! Keeping them separate allows you to optimize your ads, bids, and conversions depending on the device.
If you're using the Power Editor to design your banners and ads, then you can choose the device targeting in the ad set menu.
Get the most out of Facebook Remarketing tool
Any potential customers who've visited your page from any traffic source, but didn't convert, are likely to compare prices and products. Maybe they have visited your campaign page, they loved your ugly Christmas sweater design but they are thinking "well, it's not Christmas yet, I will wait". They're in the research phase and are trying to get the best possible deal.
Facebook Remarketing is a magic tool that allows you to target people who've visited your website in the past. These are the main steps to setup a Remarketing pixel :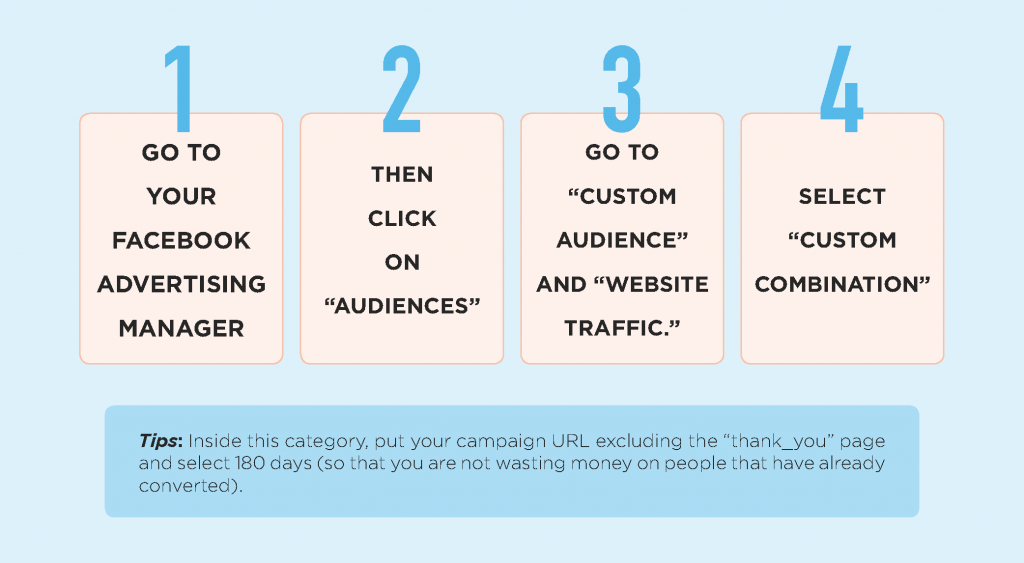 Create short videos adverts
Videos represent an outstanding engagement content format, therefore they can be a fundamental tool towards building a strong community.The key is to create a short, impactful clip (10 seconds is enough): we strongly suggest you to find THE powerful message in the first two seconds of the video (like "Best idea for your grandpa's gift" ). At the same time, storytelling and soundtrack (check Jamendo or Audio Network) are key-elements and, if you want to create viral content, be creative ! Use an ironic or funny catchy slogan.
An added benefit? You can retarget video views everyday for up to one year after the original posting.
Use Carousel Ads
If your (potential) customers seem to respond well to a series of product images (and this is also the chance for you to sponsor several products with one shot), you can combine those images into a single ad with the carousel ad. This is a recent ad type that allows you to show more than one mock-up at once within a single ad, allowing you to cross-sell complementary products, or even retarget customers who click through to your campaign but don't click on "add to cart". An Adobe study showed these ads are more cost efficient per acquisition, saving you up to 35% in cost per click because of higher engagement. And, they can boost your click through rate between 50 to 300%.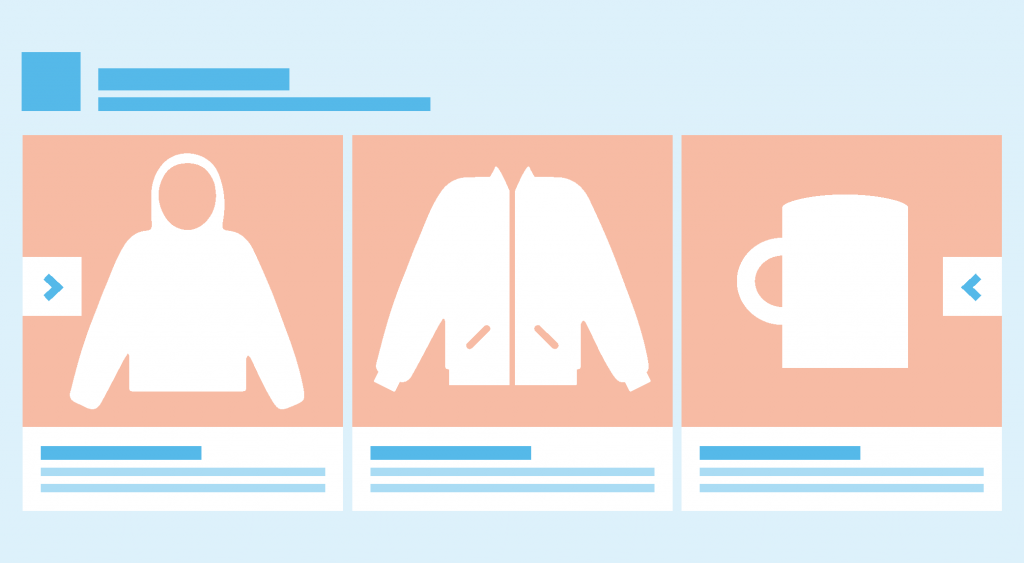 Increase your Advertising budget during the Holiday Season
Competition is getting stronger and stronger, and you need to invest yourself and also your money if you want to enhance your brand awareness and scale up your sales. By increasing your daily budget, you allow Facebook to bid more for your target action, and show more ads. November offers you several chances to increase your daily budget and set your promotions on fire: Black Friday and Cyber Monday, the Christmas campaigns, the Winter season that is also spreading in the South of Europe…
Make the Holiday Rush Work for You
You know how timing is crucial for marketers during the Holiday season, a fact that smart advertisers incorporate into all their campaigns well in advance, and appealing to prospects' desire to make the holidays as stress-free as possible is one of the most powerful tools at your disposal. If you are launching your Christmas campaigns in October/November, you should well emphasise that your customers will receive your items in a short time. On the other hand, we are going to communicate the Christmas campaign deadlines to you shortly: you should respect them if you want your buyers to have their gift under the tree, that's why we are talking to you about Santa even though winter has not arrived yet. You need to be prepared, and sponsor your product a month before.
Everything about your campaigns, from your ad copy to the imagery you use on Social, should reiterate the misery of the Holiday rush, and how buying your product in just 3 clicks will guarantee an excellent service and a prompt delivery. Avoiding the crowds in the shops on Christmas Eve: this is the message you should communicate heavily!
Create a sense of urgency
Manufacturing a sense of urgency on your campaign pages is a highly effective way to push hesitant buyers over the line and convert. There are several ways to do this. Some sellers include countdown timers on their pages that tell customers exactly how much time they have left to take advantage of a time-sensitive offer. Others include banners promoting specific offers, such as free shipping and discounts on their ads or social networks.
Find the right keywords
Sure, you're always going to have your core slogans, but it's vital to capitalize (and bid) on seasonal searches and other timely trends. One way to do this is by using Google Trends and other similar online marketing tools to identify new keywords that can breathe life into your Holiday campaigns. Instagram and Twitter also offer golden opportunities to know relevant hashtags and trends.
Making tenuous connections between your core terms and trending topics for the sake of capturing largely irrelevant traffic - that probably won't convert- shouldn't be a part of your Holiday marketing strategy; on the other hand, it's definitely worth revisiting your keywords before the Holiday season begins in earnest to see if there aren't some opportunities waiting for you that you've overlooked.
Get the Christmas Look!
(almost) Everybody loves the Christmas Spirit, the elves, singing "All I Want for Christmas", the snowflakes, cakes and candies and so on … The digital marketing scenario is more and more visual, and a nice graphic can lead to new selling opportunities. Therefore, you should restyle your pages and add holiday-related content (also bearing in mind the different international events, our calendars will help you to walk safely through the festive jungle).
Happy sales!