We "continue to stand" with the victims of the Italian earthquake. Support the cause!
Happy Monday everybody!
Today in Paris it is biting cold and we even saw the first snowflakes. It's time for the Christmas spirit, the fireplace, the tree, the hot chocolate, the sweaters and hoodies ... However, despite this magical atmosphere, our thoughts  do nothing but turn to those who are preparing to face a cold winter without the basic necessities or facilities needed.
Today we want to talk to you briefly about an initiative that warms our hearts. One of our Italian sellers launched a campaign in support of the earthquake's victims in Central Italy. The campaign is called
RESTO IN PIEDI
(I continue to stand) and is based on an innovative (for our platform) and noble concept: the buyer chooses to make a real donation by buying a hoodie (for only 16 €) and the money is donated to the affected population in the areas of central Italy >>>> www.teezily.com/restoinpiedi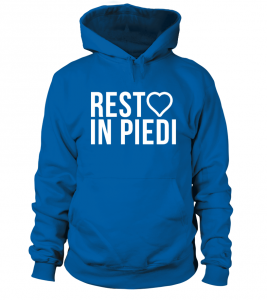 The products will be dispatched and distributed by the following address:
CENTRO SMISTAMENTO FELPE PER I TERREMOTATI
Daniele Testa
PROSCIUTTIFICIO PRINCIPE
via meggiana 19, CAP 06046 (PERUGIA)
(NORCIA)
We strongly invite you all to give a small contribution for a great cause. The Teezily Team will
continue to stand
with all the victims of the earthquake.