Best Practices for Facebook Video Ads
Do the Facebook ads for your TZ campaigns contain a video? Did you know that this might be the best way to promote your customizable campaigns? Allow us to explain why: it might be difficult for your (potential) buyers to understand by simply looking at an image, that it is possible to customize the sale by adding a name, a slogan or completing a sentence. A brief video might just be the solution to show your audience and customers this incredible opportunity you are offering! Besides, video ads are among the most powerful Facebook ad formats for generating user engagement; and it's even cheaper than normal advertising… yes, you can set up a video ad at ... $0.0001 per view! Amazing, isn't it?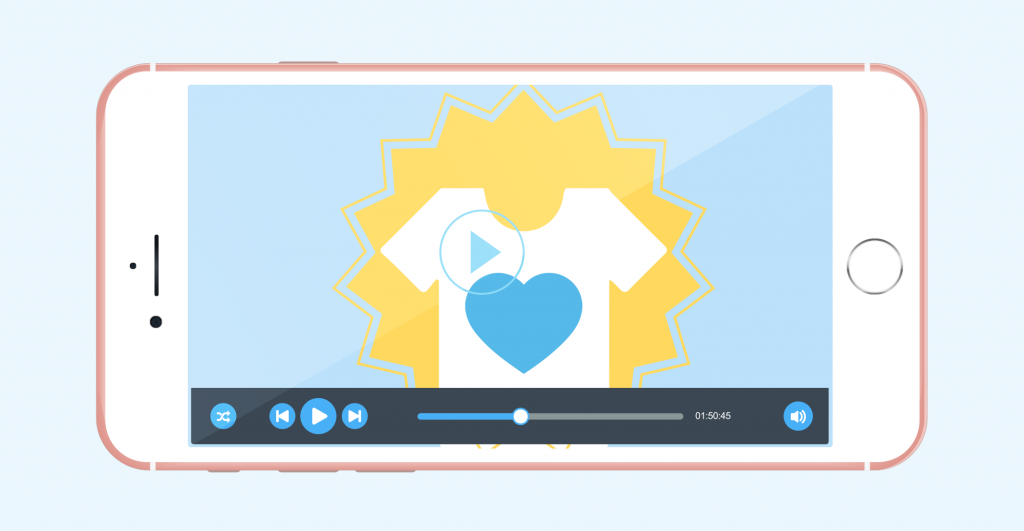 #1:Get to the point

An important insight to bear in mind is that the average percentage of people who have watched a full video on Facebook is 33% and the drop rate was highest in the first few seconds. We have to be honest, it seems easy but it's not; you have to publish a post worth paying attention to. Video ads must fulfill two requirements: catch the user's attention in 2-3 seconds and be short ( we strongly suggest a length of 20 seconds).
What are the most common causes for low audience retention? First of all, do not include an intro or introduce logos and credits at the very beginning. People are not interested in the story behind your creation either. The key is to show viewers something that will make them curious enough to want to know what happens next.

Tip : If you can't explain the concept in a few seconds, end the video with a cliffhanger and prompt users to click on your campaign page! And what about creating a compelling offer users cannot resist?

#2 : Pick the perfect thumbnail
Facebook will showcase a range of previews randomly selected from your video. If you don't find any of these images engaging enough, you can use your own image by uploading or selecting the video you want to use in your ad and then click on the Custom Thumbnail area.
Tip
: Choose a thumbnail that has the same aspect ratio as videos, which is 16:9 or 1:1 for square videos
—
this is different from the 1:1.91 ratio recommended for links. And although Facebook has removed the 20% text limit for images, remember that images with a lot of text will get a lower priority for delivery.
#3: Create Multiple Video Audiences for Retargeting

Good news : Facebook has now updated the "Create custom audience" feature. You can now create custom audiences from video views based on the following levels of engagement:

Furthermore, you can combine multiple levels of engagement across multiple videos to create a more effective custom audience. For example, you can create a custom audience for people who have watched more than 50% of some videos, 75% of others, and so on. Combining these video audiences allows you to create an effective custom audience that can be used for retargeting.
Tip :
Use Facebook Audience Insights to analyze the custom audience and get more information about the users engaging with your content. Do not underestimate the power of retargeting!
#4: Select Video Views to Get Maximum Reach
We are well aware of the main problem of setting up a video ad: indeed, it is more difficult for the algorithm to find users who would be willing click on a video ad to go to a website, so you might experience a slower ad delivery and reach of your campaign. You can solve this by choosing to set Video Views as the ad objective, making it easier for Facebook  to find users  who are more likely to watch the video and help promote your products.
Tip :
Since your campaign objective is to generate clicks and conversions, Facebook will show the ad to users who are likely to click on a link (rather than users who are likely to watch the video). So don't worry about having a low video retention because users are likely to click on a link without watching the video.
#5 Use Headlines and Write an Informative Description
Don't be afraid about adding text to your video description. Say whatever you feel you need to supplement and support your video, especially if you want to explain to your customers that they can personalize the product with a name/slogan. It's really important to underline this opportunity in an interesting caption. Some studies show that short narrative performs best for Facebook posts.
Tip :
When showing your audience how to do something, include step-by-step instructions and be as clear as possible. Adding text to the video helps you highlight salient points: when you include lower thirds on your videos, viewers can consume your video content and grab the high points without watching the whole video or reading a detailed description or related post.